Celebrating TREK, BONTRAGER AND ELECTRA — BRANDS WE BELIEVE IN
Epicenter Cycling is proud to carry a wide range of Trek and Electra bicycles, as well as Bontrager parts, accessories and clothing. We stand behind each brand as being among the very best in the industry … and we believe you'll be equally impressed. Read on to learn about Trek's humble origins, its steady rise, and collaborations with industry luminaries Gary Fisher, Keith Bontrager, Benno Bänziger and Jeano Erforth.
Join us in celebrating a company that stays true to its core objectives: to produce high quality products and to bring the joy of cycling to more people. More people on bikes? Cheers to that!
A Classic Barn Story – Trek is Born
In the mid-1970s, entrepreneurs Dick Burke and Bevil Hogg recognized a touring bike boom in Europe. They observed plenty of low-end bicycles were being built in the US, but not ones of higher quality. In 1976, the duo sought to change that, and began manufacturing handcrafted, hand-painted American-made steel touring bikes. They founded what would become Trek Bicycle Corporation in their backyard barn in Waterloo, Wisconsin. In that mid-western barn, the notion that high quality bikes only came from Europe was dispelled.
Innovative tech developments in the 1990s through early 2010s generated a "Renaissance" period in the bike industry. At the same time, mountain biking — which originated around the same time Trek was founded — was taking off as a respected sport. Trek was at the forefront of this cycling surge. When Dick Burke passed away in 2008, his son John took over as CEO. Inspired by his father's commitment, Burke was more determined than ever to make cycling accessible to as many people as possible.
Today, Trek is a leader in international bicycle distribution. In fact, Trek is the biggest manufacturer of bikes in the US. For more than four decades, Trek has propelled the evolution of bicycle design, and that momentum has not waned. Major achievements include reducing weight of bicycle forks and frames, integrating Genesis technology, and exploring potential with 29ers. Partnerships with revolutionary designers Gary Fisher and Keith Bontrager have brought game-changing technology to the greater cycling community. Furthermore, a collaboration with Electra founders Benno Bänziger and Jeano Erforth broadened Trek's lifestyle cycling reach, enabling even more people to discover their passion for bikes.
Trek designer and spokesperson Gary Fisher is one of mountain biking's earliest pioneers and visionaries. Fisher began racing bikes at age 12 in Northern California. In 1968, at 17, he was suspended from racing for refusing to cut his long hair. By 1972, the rule was repealed and Fisher was racing again.
Fisher's dramatic entrance to the mountain bike industry came in 1974 when he modified a Schwinn Excelsior X to ride off-road. This 42-pound steel beast with coaster brakes and upgraded components is said to be the first off-road bicycle to smoothly handle descents and climbs. It set the blueprint for more "klunkers" to follow.
Fisher and his friends — many of whom are also now recognized as mountain biking pioneers — staged the very first downhill mountain bike race on their klunkers: the Repack Off-Road Downhill in Fairfax in 1976. In 1979, Fisher and fellow Repack founder Charlie Kelly launched MountainBikes, the first company to specialize in the manufacture of off-road bicycles. Frames were built by design genius Tom Ritchey, who then went on to his own bike brand and acclaim.
Fisher continued racing, and over the course of his career, set world records for quick descents. He also earned national titles in cyclo-cross and cross-country events. In 1983, he co-founded the National Off-Road Bicycle Association (NORBA), and launched his own brand, Gary Fisher Mountain Bikes. The talented and eccentric innovator was inducted into the Mountain Bike Hall of Fame in 1988.
Fast forward to 2010. Fisher saw an opportunity to globally distribute his innovative technology by partnering with Trek. In June of that year, Trek debuted the Gary Fisher Collection, a line of Trek bicycles that replaced Fisher's standalone brand. Although the Gary Fisher Collection was discontinued, Fisher remains highly involved with design and marketing.
Like Fisher, Keith Bontrager's passion for two wheels began when he was a pre-teen … but it was the motorcycle that captured his attention initially, not the bicycle. He started by building lawn mower engine-powered mini-bikes at 12. From the age of 14 through the next decade, Bontrager rode, raced, and wrenched on motorcycles. The skills he developed as a mechanic galvanized him to seek improvements to engines and suspension.
In 1978, at age 24, the bicycle caught his interest and he built his first road bike the following year. However, it was mountain biking that truly resonated with the motocross racer. In 1980, he built his first mountain bike frame. He then founded Bontrager Cycles, building mountain bike, road, track, tandem, and cyclocross frames out of his Santa Cruz garage. He quickly established a reputation for high quality work in a demanding market.
Bontrager's expertise didn't stop at frame building; his development of bicycle components is legendary. In 1984, he created the first lightweight, yet strong mountain bike rims. And in 1987, he designed and prototyped the first composite fork. Two years later, an updated version set new standards for high-strength, lightweight forks.
Bontrager also tested handlebars, stems, and other components for fatigue and strength. His product testing methods have helped develop modern safety standards.
In 1995, Bontrager Cycles was acquired by Trek, and its commitment to safety remain its greatest motivator. Bontrager continues to work with Trek to develop wheels and components for mountain, road and triathlon bikes.
Benno Bänziger and Jeano Erforth
Not long before Northern California's Bontrager Cycles merged with Trek, a unique partnership was coming together in Southern California. Electra Bicycle Company was born out of a common vision between trailblazer Benno Bänziger and entrepreneur Jeano Erforth.
As a high school student in Germany, Bänziger dreamed of California and cultivated an interest in making snowboards and skateboards. Following high school, he studied graphic design then moved to California in the early 1990s to pursue his passion.
Bänziger soon made two life-changing observations. One, California's snowboard design community was saturated. Bänziger understood the reality of a start-up's success in a crowded market.
Two, there was at that time an empty market for "lifestyle and comfort" bikes, used for fun and transportation. This style first made the scene in the early 1930s when Schwinn first developed its "cruiser bike." The style hit its peak when cruisers became an icon of the 1950s beach scene. Moving through the 1960s and 70s, it waned in popularity because sports-style bikes gained traction. But, could cruiser-style bikes make a comeback?
Erforth — another German transplant — wondered the same thing and partnered with Bänziger. Together they took a risk. In 1993, they founded Electra Bicycle Company with little more than a dream, a plan, and pounds of passion.
By the late 2000s, Electra's popularity had grown immensely, and its leaders soon realized they needed more resources to grow the Electra brand. At the same time, Trek saw Electra's power to bring bikes to the lives of more people. In 2014, the union of two great names with a common mission took place.
Trekfest: Save on Trek, Electra and Bontrager April 4-15
Trek's annual spring sale celebrates its mission to get more people on quality bikes. This April 4-15, save on ALL Trek and Electra bicycles, and get 20% off Bontrager clothing, parts and accessories.*
Come by either of our convenient locations in Santa Cruz and Aptos to browse our wide range of Trek and Electra bicycles. Models include electric, mountain, road, gravel, commuter, hybrid, cruiser, and kids. Test rides are free — try out as many bicycles as you want. Most of all, we want you to be happy, comfortable, and confident with your choice. Also, keep in mind you get unlimited free tune-ups for the life of your bike!
Of course, we carry so much more than bikes. Browse Bontrager's deep selection of parts, accessories, shoes, and apparel. Our selection of cycling gear has to pass the high standards of our crew. Therefore, you can rest assured it's top notch. If for any reason, you aren't 100% thrilled with your purchase, don't worry. Bontrager comes with a 30-day unconditional guarantee.
*Bontrager Garmin Edge 1030 not included; select Bontrager wheels on sale up to $100 off.
Now that you're stoked to treat yourself to a spring deal, need some ideas? Check out our "Crew Favorite" bikes and gear below!
Trek Fuel EX 8 29 is the "do all" mountain bike, built to satisfy your ambitions. Trek's Boost system widens both hubs to give 29" wheels the stiff handling of 26" wheels. This bike was designed with G2 technology which allows 29ers to handle sharp corners precisely at low speeds. With a Mino Link-equipped frame, you have the ability to adjust the bike's head tube to meet the needs of every ride.

Do you see yourself on a bike that will stick to gravel and keep you efficient on long road rides? Are you looking for a bike that will keep you comfortable on any terrain? Look no further! Trek's Domane 5 is a carbon-frame bicycle with front and rear Isospeed technology. Isospeed works by separating the fork and head tube from the frame. Trek's exclusive technology gives your bike a smooth and wonderfully efficient ride.
Have you ever walked into a bike shop with the thought, "I just want a bike"? Enter Trek's FX series. We especially dig the FX 3 which is available with either disc or rim brakes and is the commuter and recreational riders' best friend. A carbon fork and Isoform handlebars ease vibrations from the road. The bicycle's wheel size gives you the speed of a road bike and the comfort of neutral, slightly upright geometry.
Curious about why e-bikes are gaining traction as the commuter of our future? Have you been off the bike for awhile and are daunted by potential pain or discomfort? We invite you to test ride this silky set of wheels. Trek built Verve+ to be a very comfortable ride. The bike comes with grips that fit in your palm and a comfortable seat with built-in seat post suspension. Simply, Verve+ is the people's bike!
Electra took a classic-vintage frame, added fat tires and powered the bike with a BOSCH battery. This stylish and dependable set-up gives riders the necessary confidence to swiftly move through city streets. Townie GO! has an internal gear system assuring all two-wheel commuters enjoyable and smooth rides. The BOSCH battery offers four pedal assist modes: Eco, Tour, Sport, and Turbo. Try out a Townie GO! on us, one ride is worth a thousand words. Pictured: Townie Go! 8i Step-Thru. Step-Over also available.
If you want a stylish, undeterrable commuter to conquer and explore the roads of your city, stop here. The Electra Loft 7i boasts a lightweight but sturdy alloy frame, a 7-speed internal gear hub, fenders, and a rear rack. When you're on a mission and your ride is your tool to get you there, this bike has you covered with A-list style. Pictured: Townie Loft 7i Step-Thru. Step-Over also available.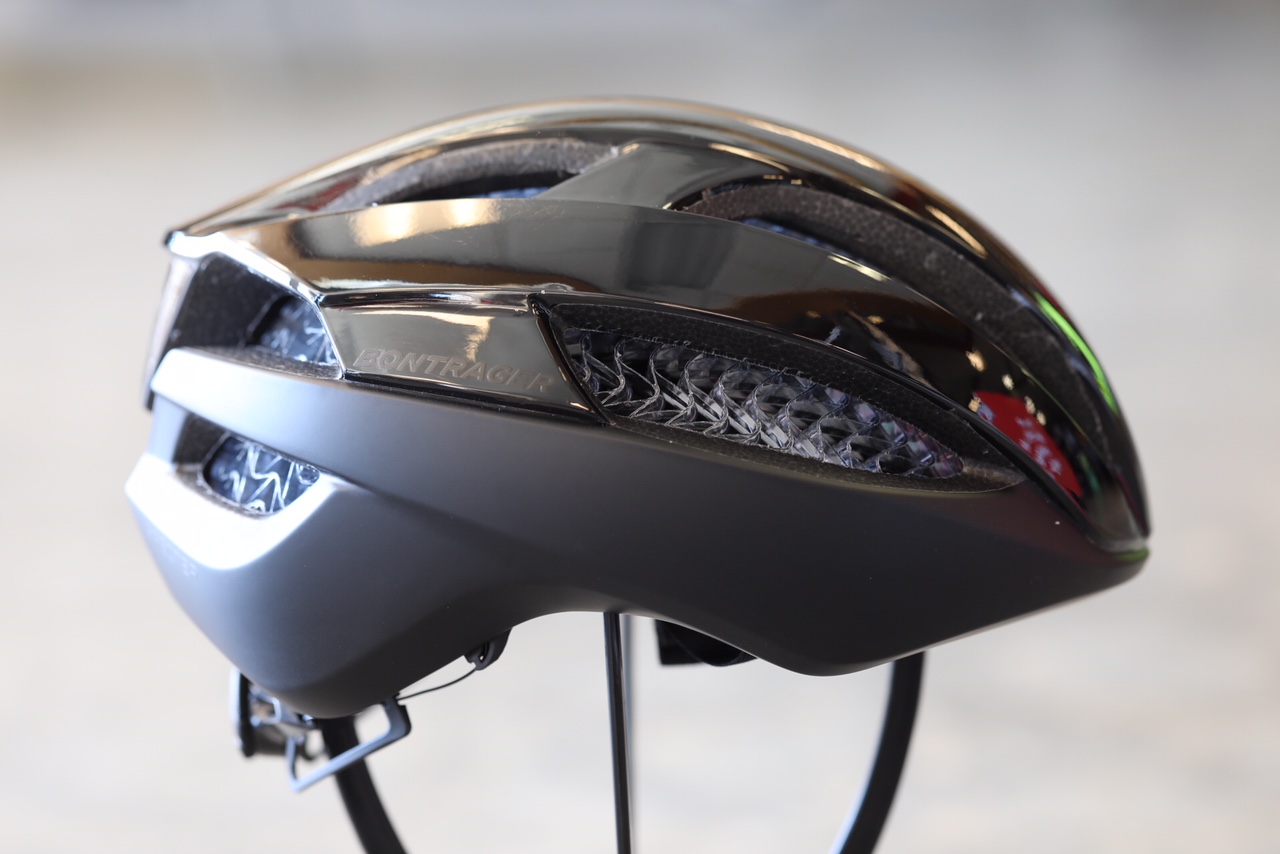 < Bontrager Specter WaveCel Helmet
Bontrager just dropped the mic. Trek engineers worked with academic and medical research teams to design the WaveCel-integrated helmet. This 3D, cellular material "flexes, crumples, and glides" reducing the lateral and rotational impact forces you experience in a crash. Specter WaveCel is a lightweight, breathable cycling helmet appropriate for all types of riding. Three other models also available: XXX (road), Blaze (mountain) and Charge (commuter). Come on in and check out this revolutionary technology yourself. After all… you only get one brain.
Bontrager Quantum MIPS Helmet >
The Bontrager Quantum MIPS is designed for the ultimate adventurer. The Headmaster II fit system promises distinct structural integrity, which translates to a distinctively snug and comfortable fit. A cycling safety gear favorite, Quantum has a removable visor making it the perfect town and trail companion. Its moisture-wicking pads are removable and washable keeping every ride as fresh as the air. Available in a variety of colorways.

< Bontrager Flatline MTB Shoe
Bontrager's Flatline shoe is durable, dependable, and tacky. Thanks to Vibram rubber outsoles, your shoes will stay stuck to your platform pedals in soggier conditions. The outsoles have directional tread located at the toe and heel; a feature designed to make hike-a-bike sections a breeze. Whether you're shredding pump tracks or trails, Flatline will not disappoint.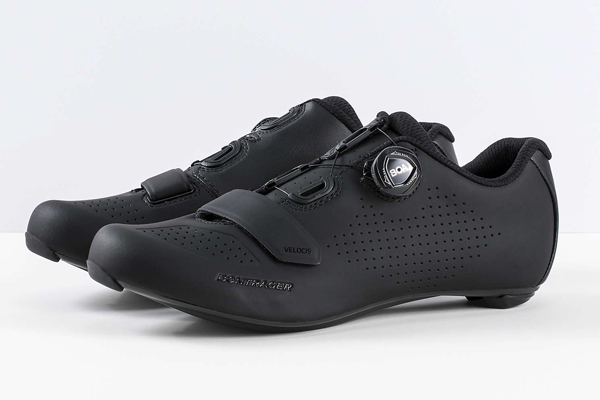 Bontrager Velocis Road Shoe >
We've all felt it: "I've had miles of unforgettable smiles in these well-worn shoes; it's time for new pumps!" Enter Bontrager's Velocis: kicks designed to be stiff and durable yet remarkably comfortable. Their agreeable feel is owed, in-part, to "perforated uppers." This feature keeps your feet warm and dry in rain, but these soulplates won't disappoint on long and hot rides. The Velocis will give committed roadies and dirt-loving cross-country riders opulent adventures, in all elements.
< Bontrager Flare RT Light
Bontrager's Flare lights were developed by a team of professional cyclists and graduate students at Clemson University's Visual Perception Lab. These daytime running lights have a focused lens, so other road users recognize your presence up to 2 km away. Flare RT comes equipped with an interrupted flash pattern that will get the attention of distracted day-time drivers. A rear daytime running light is the most effective way to increase your visibility on the road.
Bontrager Circuit Stormshell Jacket >
Bontrager's Stormshell is breathable and waterproof built to keep you riding in all weather conditions. Its full-zipper gives you the power to control body temperature, so your ride always feels invigorating! Stormshell is a relaxed, roomy jacket that gives you the option of layering; the relaxed fit prevents restricted movement. These are great features for the commuter who rides to work and might walk out of the office to find a one-eighty in weather.