Epicenter Cycling's Guide to Getting Around Town by Bike
So, you're interested in using a bicycle for transportation, but you're not sure where to start. We're here to help set you up for success!
First of all, we applaud you for giving the get-around-by-bike lifestyle a try. There are so many great benefits to yourself, your community, and the planet when you choose a bike over a car. Whether you're looking to simply run errands by bike, commute to work, or full-on ditch your car, you're making a positive difference.
Benefits of Getting Around by Bike
Starting your day off with a bike ride boosts your energy, focus and well-being. Even just a 20 minute pedal to the store and back offers incredible health benefits.
Keep in mind, too, the financial benefits of choosing your bike vs. your car even for simple errands. Put that gas and parking money into a jar and watch it build up fast. Getting rid of your vehicle entirely, of course, can have a massive impact on your financial situation. In addition to saving on gas and parking, you'll lose the registration and insurance bills. Plus, naturally, the cost of bike maintenance and repairs is a fraction of that for autos.
You'll sleep better, too … not only due to regular exercise, but because you'll be content in the knowledge that your choices and actions are making a powerful impact on your community and planet. The less you use your car, the less emissions are being let into the air — imagine the ripple effect as more people opt for two wheels over their vehicles.
And let's face it … the less traffic one has to deal with, the better one's mental health, right? That thick cross-town congestion that leaves you feeling frustrated and stressed? Cruise on by those vehicles moving at a snail's pace and get to your destination faster and happier. Opt for an e-bike to get there sweat-free!
So, there's the WHY … now for the HOW TO!
Choosing the Right Bicycle
First and foremost, of course, you need a BIKE. Although you can certainly get around town just fine on your mountain or road bike, or even that old klunker you discovered in the back of your dad's shed, a bike designed specifically for getting around town and commuting is the best way to roll.
But there are so many options! How do you know which is best suited for you?
Electric vs. Traditional
Let's start by taking a look at electric vs. traditional bikes.
While traditional bikes tend to cost less than their pedal-assist counterparts, the benefits of an electric bike should definitely be considered when looking at options. Here are a few examples of why we're so stoked on e-bikes:
You can get where you're going faster

You'll enjoy the climbs

You can arrive to work and other destinations sweat-free

You get to decide for yourself the speed of travel and amount of exertion: use more assist on the days you need it (not enough sleep? no problem!) and less when you want to get your heart pumping a bit; get a full-on work out by pedaling as fast as you can in all modes, or by turning off the assist entirely

Barriers to cycling such as physical limitations are removed

Families and other groups of cyclists with varying abilities can bike together, as pedal-assist levels the playing field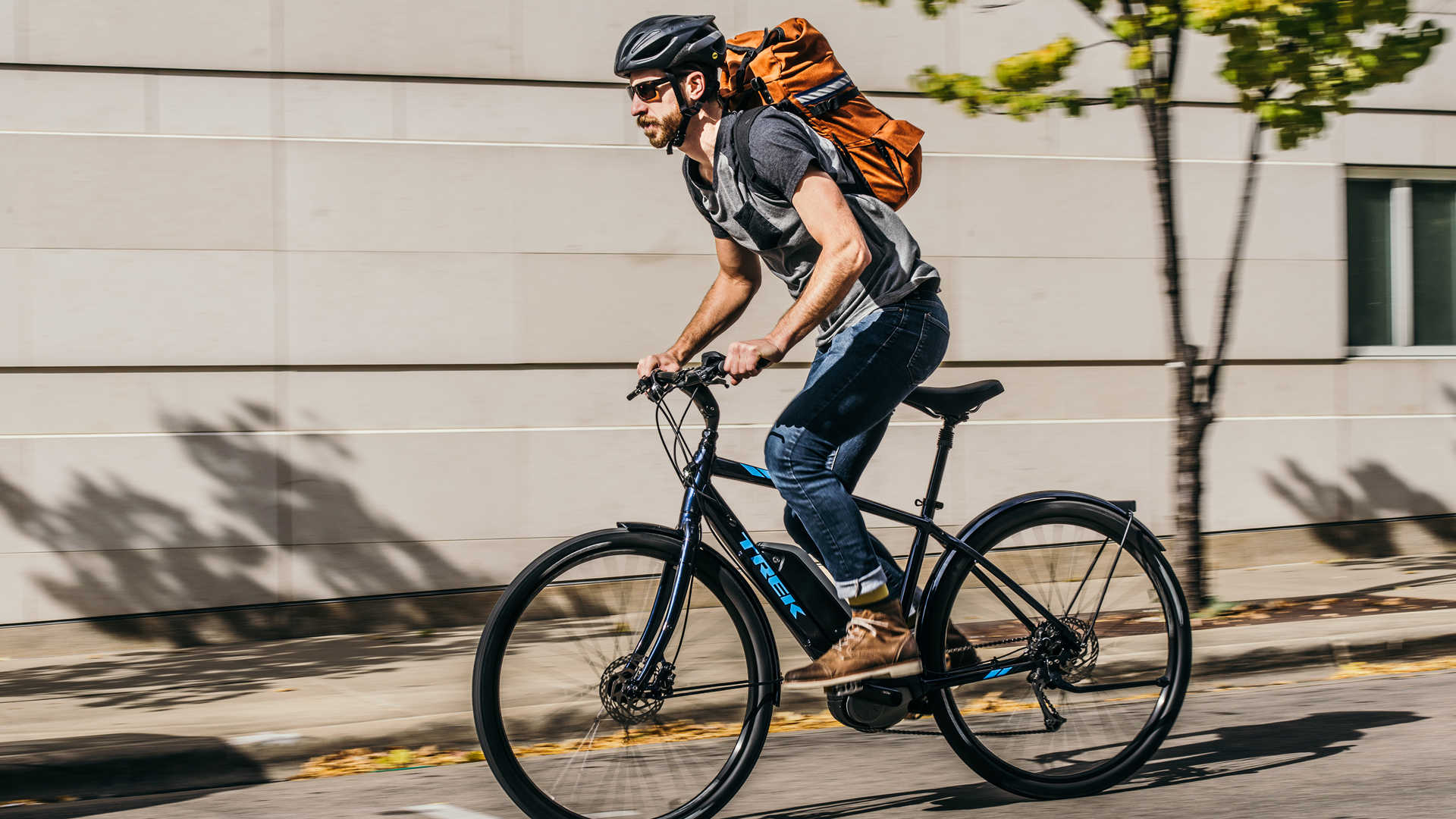 Style Choices
Epicenter Cycling carries both electric and traditional bikes in urban/commuter, comfort/cruiser, and cargo styles.
Urban/commuter bikes put the rider in a dynamic, forward position (from slightly bent to moderate). Many models — called hybrid bikes — are as efficient on dirt paths as they are on pavement. Electric versions we recommend include Trek Super Commuter 8s, Trek Verve+ and Trek Dual Sport+. Traditional models include Trek FX3 Disc, Trek Dual Sport, and Trek Verve Disc.
Comfort/cruiser bikes put the rider in an upright position and most boast a cushy saddle and wide handlebars. Electric versions we recommended include Blix Aveny, Electra Townie GO! 8i, and Blix Sol. Traditional models include Electra Cruiser Lux 7d, Trek Verve Disc, and Electra Loft 7i.
Cargo bikes allow for the transportation of bigger loads, and even kids and pets. Electric versions we recommended include Blix Packa and Xtracycle Edgerunner E-Swoop. We recommended Xtracycle Swoop as a non-electric option.
No Cash? No Problem!
So, you've got the motivation, but not the cash. You know that in the long run … or actually even the short run! … a bike will pay for itself and then some. When you factor in the cost of gas, parking, registration, insurance, maintenance and repairs, it's easy to see which method of transportation will make your bank account swell. But, the reality this minute is you simply don't have a bike in your budget. That's okay; we have some solutions for you.
Trek Credit Card
At Epicenter Cycling, we offer a Trek credit card that boasts a 0% APR for one year after your purchase. This will give you the grace period you need and in that time, you'll be stashing the cash saved by riding your new bike.
Ecology Action Bicycle Loan Program
If your employer is a member of Ecology Action's Transportation Member Services program, you qualify for a 0% interest loan. Borrow up to $750 to purchase a bicycle and the gear needed for getting around town by bike. If your employer is not a member of this unique program, be sure to bring it to their attention. This is a great way for your employer to support its community by making alternative commuting options accessible to more people … and thereby reducing traffic congestion, air pollution and parking shortages!
Learn more about the Ecology Action Bicycle Loan Program here.
UCSC Bike Library
If you are a UCSC student or faculty/staff member, you may borrow a bicycle from the university's bike lending program. Bikes are loaned out for quarter-long periods, and participants receive general support, safety instruction, and assistance with maintenance. Loaner helmets, locks, and lights are also provided.
Learn more about the UCSC Bike Library here.
Employer Incentives
More and more employers are discovering the benefits of supporting alternative commuting options for a better business practice and healthier community. Be sure to check with your workplace to see if they offer any financial incentives and support for bicycle commuters.
Gearing up for Safety and Comfort
Now that you have a bike, or one is on the horizon, it's time to look at what clothing and accessories you'll need to safely and comfortably run errands and/or commute to work.
Apparel and Shoes
Clothing needs for getting around by bike are determined by a variety of factors. If you're using your bike to run local errands on those sunny, warm days, pretty much anything goes. Just be sure to ALWAYS wear a helmet, and closed-toed shoes are best. If riding in a skirt or dress, consider wearing a cycling chamois underneath and be sure the fabric can't get caught up in your spinning wheels or drivetrain. It's a good idea to don a hi-vis or reflective vest over your street clothes.
Not afraid of a little weather? A breathable, waterproof jacket or shell is a must. We love Bontrager's Circuit Convertible Windshell Jacket in "Visibility Yellow," as its sleeves can be easily removed, turning the jacket into a vest for those warmer temps. For optimal comfort and protection, rain pants (easily pulled over your cycling tights/shorts or work pants) are a smart investment. Water resistant shoe covers will keep your tootsies warm and dry — check out Bontrager's S1 softshell shoe cover for temperatures above freezing, and the S2 for below. Trust us … the right rain gear, even in the worst weather, will allow for you to enjoy your ride.
What to wear when commuting by bike to work is one of the top concerns for would-be bicycle commuters. If your commute is an easy route, or you're maxing the assist on an electric bike, you may not even break a sweat. In this case, you can likely go from bike to desk in the same outfit. In fact, getting around town by bike is becoming so popular, there are cycling clothes designed specifically to double as office attire! Again, it'd be prudent to wear a hi-vis or reflective vest over your office clothes.
Pro tip: If you're wearing loose pants, be sure to fasten a hi-vis, reflective leg band around the bottom of your right leg to prevent the chain from catching on the fabric.
However, if you've worked up a bit of a sweat, or you prefer to bike in your cycling kit, you'll obviously want to change your clothes. If you don't commute by bike every day, bring a change of clothes on your vehicle commute days to store at the office. Otherwise, select wrinkle-resistant attire that will pack well in a pannier, backpack, or basket. Don't forget your work shoes and socks!
Be sure to allow for the time you'll need to clean up and change after arriving at work. It's a good idea to store some essentials (a towel, lotion, comb, brush, deodorant, etc.) at your workplace, instead of carrying them back and forth every day. Some workplaces provide showers, and lockers, but a washcloth or baby wipe bath and gym bag will do just fine, too. Co-workers will be intrigued by your post-ride glow and wonder what you're up to! We bet you'll boast a bicycle commute posse before too long.
Packs, panniers and baskets
There's a wide variety of gear designed to carry what you need for your workday or pick up from the market. Options include panniers, baskets, backpacks, hydration packs (with room for extra items), and messenger bags.
If you're committed to a rain or shine commute, be sure your selection is waterproof, and reflective elements for added safety are desirable, too.
We especially love Ortleib Back-Roller Classic and Back-Roller High Visibility panniers; the Bontrager Interchange Trunk Deluxe Plus rear trunk bag partnered with the Bontrager Interchange Rear Rack; the Electra Quick Release Front Basket; and the CamelBak Mule 100-ounce hydration pack.
Safety Gear and Accessories
By far the most important is a HELMET. Don't go one single pedal stroke without a helmet on … and not just any ol' helmet. We strongly recommend a Bontrager helmet with WaveCel technology (check out the Specter, preferably in hi-vis yellow). WaveCel's ground breaking technology reduces the chance of concussion to 1.6% any time you have an unexpected meeting with the pavement. Learn more about WaveCel here.
Another must-have is a set of lights. No, reflectors are NOT enough. Day-time running lights (front and rear) are crucial ... yes, lights in the day-time! Needless to say, lights are critical at night as well. Be sure to keep them charged. We recommend the Bontrager Ion 100 R/Flare R City Bike Light Set which comes with both front and rear rechargeable lights. A handlebar mirror and bell are handy accessories for boosting awareness as well.
Hi-vis and/or reflective leg bands and/or hi-vis shoe covers will boost your visibility a great deal. These items stand out especially well due to your legs and hands being in motion.
Protect your hands and absorb shock from the road with a good pair of cycling gloves. Gloves come in many different styles and materials; come by to check out our selection and feel free to try them on. Be sure to protect your eyes as well with cycling eyewear which reduces glare and protects from UV rays and debris.
Other items to consider are a water bottle and cage (holder), a rear view mirror, a flat repair kit (tire levers, a spare tube, CO2 cartridge or air pump), and a floor pump to keep at home and/or at the office.
Being safe and confident on the road
Don't let the fear of getting in an accident hold you back from pursuing your dream of getting around town by bicycle. Although this concern is one of the biggest reasons people are hesitant to commute by bike, it can be easily mitigated with proper route planning and the right safety gear.
SCOUT A ROUTE
Don't let the fear of getting in an accident hold you back from pursuing your dream of getting around town by bicycle. Although this concern is one of the biggest reasons people are hesitant to commute by bike, it can be easily mitigated with proper route planning and the right safety gear.
Before you make your first commute by your two-wheeled vehicle, drive the routes available to you to see which feels the safest to you. Until you're more comfortable on the busier main roads, stick to local side streets, and consider choosing a longer route with less traffic as well. Santa Cruz County is implementing more and more bike lanes; look for these green lanes when establishing your route.
Practice
Practice riding around a parking lot to get used to the feeling of cars being close to you. Also, although for the most part you should be looking where you're going, it's a good idea to practice checking on what's happening behind you while still holding your line. To master the skill of peeking behind you without swerving, practice doing so on the painted line in a parking lot.
Pro tip: If you struggle to stay straight while looking behind you, practice by sticking your left arm straight out behind you, then turn (head, shoulders, and neck!) and look over your left shoulder. Using your left arm as a guide this way will help you ride straight; you'll soon be executing this move smoothly and won't need to put your arm out.
DON'T RUSH
Allow for some extra time so you won't be worried about being late. Stress may cause you to make poor judgment calls … you want to keep your cool.
FUEL UP
Be sure to eat a nutritious meal and be hydrated as well. Not having the appropriate "fuel in the tank" can also cause you to make poor judgment calls.
BE SEEN
As outlined earlier, another important way to be safe is to ensure you are SEEN. Choose a helmet, clothing, and other gear in hi-vis yellow for daytime cycling, and reflective materials for after dark. Run front and rear lights even during the day. Make noise when needed to ensure you're seen: use a bell, whistle, horn, or even shout. And last but not least, never assume a driver sees you — make eye contact to make sure.
FOLLOW THE RULES
Always follow the rules of the road and follow the same traffic laws as if you are driving a car. This includes stopping at stop signs and traffic lights, traveling with the flow of traffic, and yielding to pedestrians and other vehicles. Use hand signals to communicate with auto drivers, pedestrians, and other cyclists. Stay alert, scanning ahead and anticipating issues. Leave the headphones for the gym; you need to have all senses ON.
RIDE RIGHT
Proper riding technique will keep you safe, as well. Ride in control at all times, and at a speed that allows prompt reaction to the unexpected. Be prepared to brake at any time, so keep your hands on the brake levers when not making hand signals. Keep a safe distance — at least four feet — between yourself and other riders and drivers. Be vigilant for doors opening when passing parked cars, and also be extremely careful crossing driveways, parking lot entrances/exits, and side streets. Similarly, keep an eye out for vehicles coming from the opposite direction who might turn left across your path.
It may seem counterintuitive, but make it a habit of keeping a buffer zone between yourself and the curb, even if feels like you're riding too close to the flow of automobile traffic. Motorists will be more likely to see you, and less likely to squeeze by you.
Be courteous
It's not enough to be a wise, safe bicycle commuter … be courteous as well. Communicate clearly and thoughtfully through hand signals, eye contact, and other means. If there are five or more cars behind you, pull over and let them pass. And most importantly — smile! Because … bikes!
Establishing a Routine
Make your commute an efficient one by establishing a routine. Being prepared makes a world of difference. Get things set up the night before. Keep a checklist by your bike to double check that you have everything before you head out. In the morning, you'll be all set to roll out with a smile.
Check tire pressure; top off the air if needed

Charge lights

Check the weather report and plan clothing and gear accordingly

Fill hydration bottle(s) or bladder

Lay out bike clothes (or pack a change of clothes) and accessories (socks, gloves, helmet)

Prepare your lunch or other items needed for your workday
It's a good idea to find a spot you can permanently store a flat repair kit vs. unpacking and packing it every day. You can attach items to your bike (ask us how), or stash them in your pack, panniers or basket. Promptly replace any tubes or cartridges you may use, so you don't forget.
Pro tip: Keeping your bike tuned up will minimize chances of mechanical issues on your way to work, which cost you time and cause undue stress. Our basic tune-up costs just $79; our experienced mechanics will torque all fasteners, align and adjust brakes, align and adjust shifting, adjust the headset, inspect the bottom bracket, lube the chain, and inflate the tires. And guess what? If you purchase(d) your bike at Epicenter, you get unlimited FREE basic tune-ups for the life of your bike!
Flat Tire? You Got This!
Another thing that would-be bike commuters get a little nervous about is the rare, but dreaded, flat tire. Of course, you can prevent flats in the first place by running quality tires appropriate for your bike and the terrain you are riding, and keeping them inflated with the proper amount of air for your particular tire.
That said, it certainly doesn't hurt to be prepared. You just need some one-on-one tutelage from our crew — we're happy to teach you! — and a flat repair kit (tire levers, a spare tube, CO2 cartridge or air pump). You'll go from anxious to confident in no time flat. Pun 100% intended, of course.
Keeping Your Bike Safe
Your bike will bring you a great deal of joy; don't let a great deal of sorrow over its loss interfere with your new-found freedom. Savvy cyclists know that you never, ever, EVER leave your bike unlocked while unattended … even for a few seconds. Following are some options for keeping your bike safe from bike thieves.
Bike Lock
Any old lock isn't enough! We highly recommend you invest in the Abus Bordo Granit XPlus Level 15 folding link lock, available in two different sizes. This lock offers the cleanest integration plus great attachment versatility, and it would take a power tool to bust it.
The next best option is the Abus City Chain Level 12, also available in different lengths. This lock is slightly heavier, but — being a chain lock — makes a powerful statement. It, too, would take a power tool to bust. It can be stored in a pannier, bag pack, or wrapped around the frame.
A more budget-conscious option is the Bontrager Elite Keyed U-Lock with Cable. Use the cable to secure the front or rear wheel, and the u-lock to protect the frame. This lock can be bolt cut, but it at least offers some protection in lower risk areas.
We suggest supplementing any bike lock with Delta Hublox Anti-Theft Security Skewers for wheel theft prevention. These innovative skewers replace the stock skewers on your bike and require a special tool to unscrew.
Workplace Storage
If you're allowed to bring your bike in to your workplace, all the better! But we highly recommend you lock it up there, too.
e-Locker
An especially safe place to leave your bike while you work or run errands is at BikeLink on-demand bike parking facility. These "eLockers" are found throughout Santa Cruz (and many other Bay Area communities; see map of locations here). Each bike goes into its own space, and you can store your helmet and gear with your bike, too. It's faster than locking both wheels to a rack and your bike will stay dry in rainy weather, too. Learn more and sign up for your BikeLink card here.
Register Your Bike
A bicycle license sticker issued by the Santa Cruz Police Department tends to deter bike thieves, and having your bike registered may aid police in finding your bicycle if it is ever lost or stolen. Registration is free and never expires; register on-line here.
Embracing the Cycling Lifestyle
Now that you have the inspiration and confidence, and the bike and gear — get out there and ride. Don't feel that you have to dive all-in at first. Start off slowly, and once you have the hang of things, keep realistic goals as you add more days. Preparing for success is the secret to a comfortable transition.
Don't forget, we're here to guide and support you the whole way — come on by (1730 Mission Street on the west side of Santa Cruz or 8035 Soquel Drive in Aptos Village), call (Santa Cruz 831.423.9000; Aptos 831.662.8100), email, or DM us on Facebook or Instagram.